Hans Karlsen (1866 - 1952)
Hans Karlsen was born 17 Mar. 1866(# 38) on Hjelmen farm, Fitjar in Sunnhordaland county, Norway. He died in 1952 in Fitjar. He was son of Karl Andreas Thomsen and Anna Hansdatter. Hans married his cousin Oline Olsdatter on 2 July 1896(#13). Hans and Oline had one son:
1. Ola Severin Bertin Karlsen, b. 18 July 1897(#19) Dyrholmen, d. 1944.
Hans was confirmed, 10 Oct. 1880(# 23) in Fitjar church. His grade was: Knowledge - good, Diligence - very good, Behaviour - very good. At that time, he was living in Hjelmen farm.
Hans was 26 years old when he emigrated to America, 1 Apr. 1892. He is then unmarried. He emigrated to Evansville, Winconsin, USA.
Hans went back to Norway, together with his brother Tollef in 1895. Hans was living in Dyrholmen farm in 1897. He leased Dyrholmen in 1902 and used the farm until 1943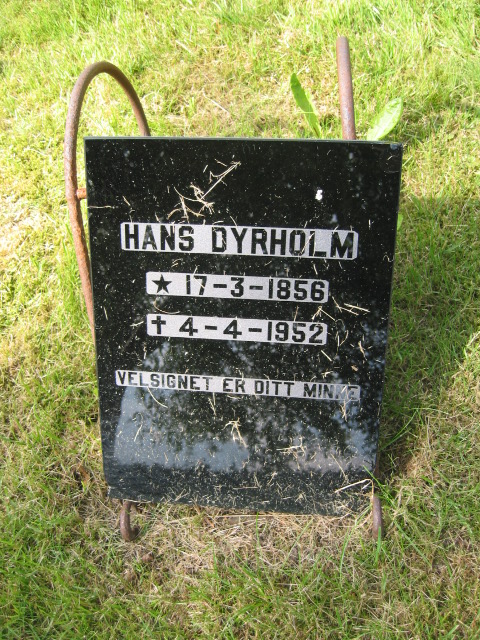 Hans Karlsen Dyrholm's gravestone. NB! Hans was born in 1866 ??. 1)

1) Simon Steinsbø: Fitjar bygdebok bind I, page 86 and 434 - 435.
Jacob Aaland: Fitjar Bygdeskipnad og bygdesoge.
Hordaland county, Fitjar, Parish register (official) nr. A 1 (1862-1881), Birth and baptism records 1866, page 20.
Hordaland county, Fitjar in Fitjar, Parish register copy nr. A 2 (1887-1906), Marriage records 1896, page 178.
Hordaland county, Fitjar in Fitjar, Parish register copy nr. A 2 (1887-1906), Birth and baptism records 1897, page 56.
Hordaland county, Fitjar, Parish register (official) nr. A 1 (1862-1881), Confirmation records 1880, page 155.
DIS Gravminner