Tollef (Tolly) Carlson (1860 - 1952)
Tollef (Tolly) Carlson (or Tollef Karlsen as his name was in Norway) was born 24 July 1860(# 91) on Hjelmen farm, Fitjar in Hordaland County, Norway. He died Dec. 29, 1952 in Stoughton, WI. (Riverside Cemetery, Stoughton, WI.) Tollef was son of Karl Andreas Thomsen and Anna Hansdatter. Tollef was never married.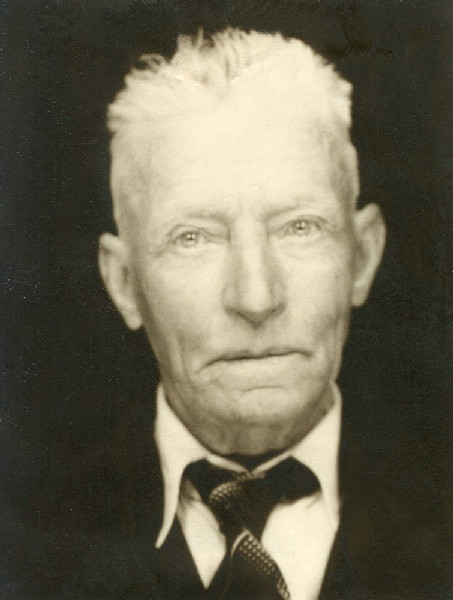 Tollef (Tolly) Carlson
Tollef was confirmed, Oct. 3, 1875(# 3) in Fitjar church. His grade was: Knowledge - very good, Diligence - very good, Behaviour - very good. At that time, he was living on Hjelmen farm.
Tollef was 31 years old when he emigrated to America, April 16, 1891. He is then mentioned as unmarried, sailor and stowaway.
Tollef was visiting in Norway 1895 - 1896. He went back to America, Apr. 16, 1896. He was then traveling with the Beaver Line, and he is mentioned as an unmarried farm worker and living in America.
From the 1900 census report we can see that Tollef Carlson was living with his sister Martha and her family at that time. They were farming in Rutland township near Stoughton, Wisconsin, USA. In 1920 Tollef was still unmarried and living in Stoughton.
THE GREAT DEPRESSION
by Doug Stokstad
Even now – in my old age – I remember an old man I knew in those depression years, long ago. He was a short, gray haired, man with tired sunken eyes. His face reflected the hard life he must have lived. He was from Norway, uneducated, but still kind and unresentful of his lot. My parents gave him a job washing dishes in their restaurant, not because they needed him, but rather to help him earn a living, meager as it had to be. They of course, in those hard years, didn't need a dish washer, but they had to help him, and they did.
"Carlsen" was his name! I don't know if that was his first name or his last name. That's what everybody called him, "Carlsen." I don't remember much about him, where he went, or when he went. What I do remember is this.
It was the middle of a very cold, cold winter. Carlsen would come into the restaurant shivering from the cold. He was dressed in threadbare old clothes that were meant for summer wear, not the sub-zero weather we were having. No hat, no boots, no overcoat, because he had none to wear.
I don't remember how I had this overcoat, I just don't remember. It was a brown, cloth overcoat that couldn't have been mine to wear because I was just a boy. Still it wasn't a large size, so it could have been a hand-me-down from one of the relatives. At any rate, it was mine, as I remember it!
It was on one of those cold mornings when Carlsen came to work that I brought the coat to him. We (mother or dad) helped Carlsen put the coat on. I felt so bad because it really didn't fit him! It was too small! He could hardly button it. But it didn't matter!
I can still see his face! The tears rolled from his eyes, and he said over and over, "Thank you, Thank you, Thank you!! This is the best thing that ever happened to me!" He was so grateful, so happy, for the warmth.
Oh, how good we all felt, to see this old man so happy!
I was just a boy, but I learned that day what great joy can be had from helping others, and that very little can mean a lot to someone else! Here's to you, Carlsen! May God Bless you sir.

Tollef's obituary in Stoughton Courier Hub Newspaper, Dec. 29, 1952:

T. Carlson Dies Today At Oregon.

Tollef Carlson, 92, died early today at the Oregon Nursing Home after a lingering illness of Several months.

He was born June 24, 1860, in Bergen, Norway, and came to the United States in 1891. Before immigrating, he served a term in the Norwegian Navy.

At one time he was a caretaker at the old First Lutheran church in Stoughton. He never married. Several nieces and nephews survive.

Funeral services will be held Wednesday from the Booth funeral home, Oregon, with the Rev. Robert Berthelson officiating. Burial will be in Prairie Mound cemetery. 1)

1) Simon Steinsbø: Fitjar bygdebok bind I, page 434 - 435.
Jacob Aaland: Fitjar Bygdeskipnad og bygdesoge.
Digitalarkivet.
The 1900 census report.
The 1920 census report.
Thanks to Ervin Erdahl for information.
Thanks to Janet Minett for the picture.
Hordaland county, Fitjar, Parish register (official) nr. A 1 (1862-1881), Confirmation records 1875, page 142.
Thanks to Erv Erdahl, Ardys Virgine (Severson) Lawrence and her daughter Margaret Ann (Peggy) Lawrence for sending me the obituary.