Martha (Carlson) Johnson (1863 - 1940)
Martha Carlson (or Martha Karlsdatter as her name was in Norway) was born 18 June 1863(# 55) on Hjelmen farm, Fitjar in Sunnhordaland County, Norway. She died in cancer, 6 Dec. 1940 in Dunkirk, WI. (Riverside Cemetery, Stoughton, WI.). She was daughter of Karl Andreas Thomsen and Anna Hansdatter. Martha married Carl Otto Johnson, on 18 Jan. 1888 in Wisconsin. They had 6 children and an one adopted daughter:
1. Carl Gustav Emil Johnson, b. 20 Mar. 1889 in Dane County, WI, d. 28 Sep. 1964 in Stoughton, WI.
2. Oscar Alfred Johnson, b. 5 Aug. 1892, d. 8 Sep. 1954.
3. Clara Johnson, b. June 1895. d. in Ohio.
4. Emma Johnson, b. 15 Nov. 1898, d. July 1968.
5. Arthur Johnson, b. Jan. 1900, d. 10 Jan. 1958.
6. Mrs. Boden.
7. Mrs. Nora Kirkpatrick. She was an adopted daughter.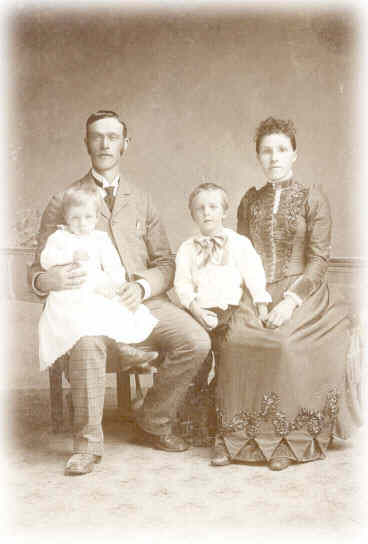 Carl O. and Martha with their children Oscar and Emil.
Martha was confirmed, 12 Oct. 1879(# 66) in Fitjar church. Her grade was: Knowledge - very good, Diligence - very good, Behaviour - very good. At that time, she was living on Hjelmen farm.
Martha was 23 years old when she emigrated to America, 6 Apr. 1887. She travelled with the Stjerne Linjen (White Star Line). She was then unmarried. Something must have happend on this voyage, because on the 15 Apr. 1887 she travelled from Kristiansand with the ship S/S Geiser Thingvalla Line, and arrived in New York on 30 April 1887. Her destination was Wisconsin.
Martha married Carl O. Johnson. From the 1900 census report we can see that they were farming in Rutland township near Stoughton, Wisconsin, USA. Her brother Tollef (Tolley) Carlson was living with them at that time. In 1920 Tollef was still unmarried and living in Stoughton.
Her gravestone at Find a Grave.

Martha's obituary in Stoughton Hub Newspaper, Dec. 7, 1940:
MRS. JOHNSON DIES FRIDAY AFTERNOON
Mrs. Martha Johnson, 77, Dies After Two Weeks'
Illness at Farm Home South of City.
Mrs. Martha Johnson, 77, died late Friday afternoon at her farm home, three and one half miles south of Stoughton, following a two weeks' illness.
Martha Carlson was born in Sogn, Norway, June 16 1863 and at the age of 24, came to the United States. She was married to C. O. Johnson on January 18, 1888: he preceded her in death five years ago.
Survivors are three sons, Oscar, Madison; and Emil and Arthur at home; three daughters, Mrs. Anthony Kostrak, Mrs. R. N. Snyder, Davenport, Ia., and Mrs. B. B. Kirkpatrick, Madison; two brothers, Tollef Carlson, Stoughton, and Hans Carlson in Norway.
Funeral services will be held Monday afternoon at 1:30 o'clock from the Cummings funeral home and at 2 o'clock from First Lutheran. The Rev. Amos W. Stolen will officiate, and burial will be in Riverside cementery. The body will lie in state after 7 o'clock Saterday evening.
Click here for more pictures of Martha and her family 1)

1) Simon Steinsbø: Fitjar bygdebok bind I, page 434 - 435.
Jacob Aaland: Fitjar Bygdeskipnad og bygdesoge.
Digitalarkivet.
The 1900 census report.
Stoughton Hub Newspaper.
Thanks to Janet Minett for the pictures and info.
Thanks to Erv Erdahl for the obituary.
Hordaland county, Fitjar, Parish register (official) nr. A 1 (1862-1881), Birth and baptism records 1863, page 11.
Hordaland county, Fitjar, Parish register (official) nr. A 1 (1862-1881), Confirmation records 1879, page 153.