Anders Andersen Kjærulf I lived in 1448 in Fogedgaard in Vadum parish and was bailiff in Kjær district. He is also listed in 1450 and 1454, but he probably died before 1458, since Thord Nielsen both in that year and in 1460 is listed as bailiff in Kjær district. The fact that none of Anders Kjærulf's sons became bailiff may lead us to believe that he died before they came of age. However the bailiff position was apparently occupied by Kjærulfs from the middle ages and until the end of the 17th century, when it was filled by the mentioned Thord Nielsen. We do not know the name of Anders Kjærulf's wife. They apparently had at least three sons, and Dyrskjøt records correctly that Skipper Klement's mother was a Kjærulf, so she can best be placed here. We then get the following descendants:
1. ? N. N. Andersdatter Kjærulf married to Anders N. N. in Vedsted in Aaby parish, with whom she beside other children had the son Klement Andersen¸ b. 1484. He was executed in 1536, and became known in history as Skipper Klement, about whom Dyrkjøt says he betrayed himself and the Kjærulfs by employing poorly planned revolutionary methods. Among other well known persons in this family we must list the minister in Nakskov Laurids Mortensen
Vedsted (father of the Thura family and his combative brother Peder Mortensen Vedsted, mayor of Nakskov around 1660.

2. Peder Andersen Kjærulf, is mentioned by Dyrskjøt 1454, but nothing else is known about him. Dyrskjøt records that he had to sons:
1. Anders Pedersen Kjærulf, about whom nothing else is known.
2. Bertel Pedersen Kjærulf "was married sins out." Anders Kjærulf in Raageleje may be from this branch. He got his arrears from the Crown on April 1, 1586 (1/2 barrel of cod), forgiven because of poor fishing season.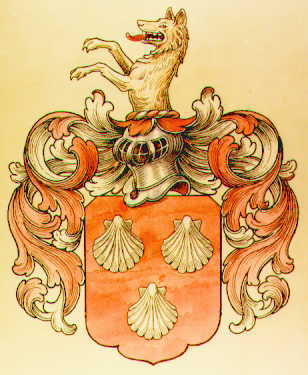 Kjærulf' Coat of Arms