Cathrine Nielsdatter (1796 - 1839)
Cathrine Nielsdatter was born 1796 i Christiania (Oslo), Norway. She died 10 Aug. 1839(# 60) at Engesund, Fitjar, Norway. She was daughter of Niels Christensen og Inger Margrethe Pedersdatter. She married Tolleif Thomsen, 5 Nov. 1816 in Oslo. They had 7 children:
1. Thomas Tollefsen Thomsen b. Mar. 26, 1819 in Bergen. He died July 13, 1886 on Håland farm, Klepp in Rogaland County, Norway. He married Anne Kirstine Nilsdatter.
2. Nils Elias Thomsen b. Sep. 18, 1820 Røen, d. Dec. 28 1855, m. May 24, 1844, Sofie Christiansdatter, from Store-Gjersvik farm, Tysnes, in Fitjar church. They were living on Avløypet farm, Ivarsøy in Fitjar. He drowned at sea.
3. Inger Katrine Thomsen b. Aug. 13, 1822 Røen, d. Feb. 15, 1859, Ivarsøy. m. June 3, 1848, Berge Endreson Tufteland, Fitjar. They were living in Engesund and Ivarsøy in Fitjar.
4. Hans Thomsen b. Sep. 12, 1824 Sunda, d. Oct. 8, 1853 Strømøy, Valestrand. m. Kari Knudsdatter.
5. Karl Andreas Thomsen b. Dec. 26, 1828 Røen, d. Feb. 18, 1908, Dyrholmen farm, Fitjar.
6. Taulerius Cornelius Thomsen b. July 12, 1832 in Engesund, Fitjar, d. Dec. 21, 1909 in Idun Township, Minnesota. m. Maria Magdalena Olsdatter Aug. 8, 1862. She was born Jan. 4, 1825, d. Sep. 16, 1907 in Idun Township, Minnesota. More about Taulerius and his descendents in Minnesota.
7. Gerhard Conrad Thomsen b. Feb. 10, 1835 in Engesund, Fitjar, d. Apr. 17, 1894, Carpenter and farmer, m. Anna Martine Olsdtr. Nov. 2, 1859 in Fitjar church. She was born 1840, Torsdagsøya farm, Fitjar, d. July 17, 1921. They were living on Ivarsøy farm, Fitjar.
When Cathrine was married she was living on Bakkehaugen farm in Oslo. Here are also a picture of one of the tenant places Haugestua on Bakkehaugen farm built by Hans Nielsen Hauge 1812 - 1814. Bakkehaugen farm belonged to an important figure in Norwegian religious history, the lay preacher Hans Nielsen Hauge who lived on the farm between 1811 - 1822, he was also a best man at the wedding. When the evangelist toured the Hardanger Fjord in early summer of 1799, he was invited to hold a religious meeting at Røen farm where Tolleif's parents lived, so I think that Tolleif was on a ship in Drammen (marriage record # 136) and was visiting Hans Nielsen Hauge in Oslo where he met Cathrine who probably was working for the evangelist.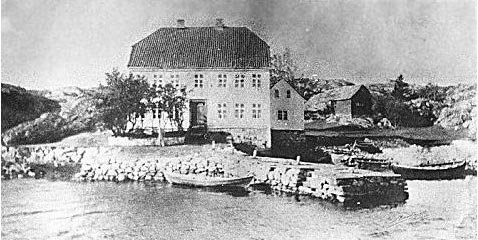 Old picture from Engesund, ca. 1900. 1)

1) Drange, Ernst Berge: Tysnes. Gards og ættesoge. 1991, Bind III, page 792, 801 - 802.
Simon Steinsbø: Fitjar bygdebok bind I, page 86.
Bergens Borgerbok 1752 - 1865.
Roger Fossum: Tolleif Thomsen Imprisonment.
Keith Thomsen, Duluth, Minn.: Mythic mutiny.
Keith Thomsen: Roots at Røo, revised.
Tolleif George Thomsen: Tolleif Thomsen Saga from "Saga from Western Norway".
Hordaland fylke, Stord, Ministerialbok nr. A 6 (1826-1840), Døde og begravede 1839, side 318.
Oslo fylke, Aker, Ministerialbok nr. 11 (1810-1819), Ekteviede 1816, side 229.