Tolleif Thomsen (1779 - 1864)
Tolleif Thomsen was born in 1779 on Røen farm, Tysnes in Sunnhordland County, Norway. He died 3 Feb. 1864(# 4) at Engesund, Fitjar in Sunnhordaland County. He was buried 6 Feb. 1864 in Fitjar cementary (See death link above). He was son of Thomas Tollefsen and Inga Torstensdatter. Tolleif married Cathrine Nielsdatter, 5 Nov. 1816 in Oslo. She was born ca. 1794. She died 10 Aug. 1839(# 60) at Engesund. They had 7 children:
1. Thomas Tollefsen Thomsen b. Mar. 26, 1819 in Bergen. He died July 13, 1886 on Håland farm, Klepp in Rogaland County, Norway. He married Anne Kirstine Nilsdatter.
2. Nils Elias Thomsen b. Sep. 18, 1820 Røen, d. Dec. 28 1855, m. May 24, 1844, Sofie Christiansdatter, from Store-Gjersvik farm, Tysnes, in Fitjar church. They were living on Avløypet farm, Ivarsøy in Fitjar. He drowned at sea.
3. Inger Katrine Thomsen b. Aug. 13, 1822 Røen, d. Feb. 15, 1859, Ivarsøy. m. June 3, 1848, Berge Endreson Tufteland, Fitjar. They were living in Engesund and Ivarsøy in Fitjar.
4. Hans Thomsen b. Sep. 12, 1824 Sunda, d. Oct. 8, 1853 Strømøy, Valestrand. m. Kari Knudsdatter.
5. Karl Andreas Thomsen b. Dec. 26, 1828 Røen, d. Feb. 18, 1908, Dyrholmen farm, Fitjar.
6. Taulerius Cornelius Thomsen b. July 12, 1832 in Engesund, Fitjar, d. Dec. 21, 1909 in Idun Township, Minnesota. m. Maria Magdalena Olsdatter Aug. 8, 1862. She was born Jan. 4, 1825, d. Sep. 16, 1907 in Idun Township, Minnesota. More about Taulerius and his descendents in Minnesota.
7. Gerhard Conrad Thomsen b. Feb. 10, 1835 in Engesund, Fitjar, d. Apr. 17, 1894, Carpenter and farmer, m. Anna Martine Olsdtr. Nov. 2, 1859 in Fitjar church. She was born 1840, Torsdagsøya farm, Fitjar, d. July 17, 1921. They were living on Ivarsøy farm, Fitjar.
Tolleif was a capable and wealthy person. In 1816 he paid a silver tax, 27 dollar as a skipper and owner of a vessel. There were not many people that paid more tax in Tysnes at that time. He was then living on Røen farm.
Skipper Tolleif Thomsen bought a part of Kroken farm in 1818 from Jan Sunda , were he built a salting herring business. The part he bought was marked with crosses, but not mentioned in the register. In 1821 he leased the rest of Kroken farm for a charge of 2 dollar a year.
In June 29, 1819 he got a skipper license as a skipper in Bergen. At that time he was living at Rode 3-5, meaning Strandgaten 123 in Bergen. Later he moved back to Tysnes.
He was living on Røen farm until 1822 when he and his family moved to Kroken farm. Tolleif was probably a "Haugianer" as his father and brother.
Tolleif Thomsen bought Engesund in 1831 and took over the inn and store in 1832. In 1836, he was called "Merchant in Engesund." See also, Roots at Røo, by Keith Thomsen.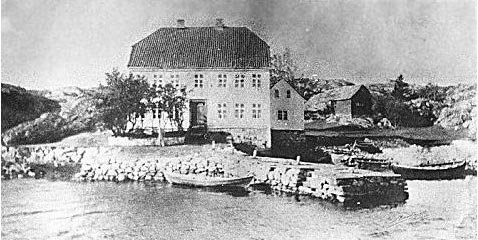 Old picture from Engesund, ca. 1900.
The Tysnes bygdebok (community annals) confirms that Tolleif was imprisoned by the British during the war of 1807 - 1814. See also my story Tolleif Thomsen's Imprisonment. 1)

1) Drange, Ernst Berge: Tysnes. Gards og ættesoge. 1991, Bind III, page 792, 801 - 802.
Simon Steinsbø: Fitjar bygdebok bind I, page 86.
Bergens Borgerbok 1752 - 1865.
Roger Fossum: Tolleif Thomsen Imprisonment.
Keith Thomsen, Duluth, Minn.: Mythic mutiny.
Keith Thomsen: Roots at Røo, revised.
Tolleif George Thomsen: Tolleif Thomsen Saga from "Saga from Western Norway".
Hordaland county, Fitjar, Parish register (official) nr. A 1 (1862-1881), Death and burial records 1864, page 197.